PROC-tober bridging with 2.5% proc fees

Up to 75% LTV | Rates from 0.55% | light/medium/heavy refurb options
Welcome to PROC-tober!
FOR INTERMEDIARIES
We are delighted to launch PROC-tober, an initiative for intermediaries which pays an enhanced proc fee for all formal bridging finance enquiries submitted in October 2020. 
We will pay you a 2.5% proc fee
plus we will donate to charity
As well as a boosted 2.5% proc fee, Catalyst will also donate to "Hope for food". a charity based closed to our Hive Head Office.
Take a look and download the PROC-tober guide here
THE SMALL PRINT
For your case to qualify for PROC-tober:
> Open to professional intermediaries only; existing brokers and new brokers welcome!
> Intermediaries must be registered with Catalyst. Not yet registered? Download the form here and email to enquiry@catalystpf.co.uk
> Formal bridging enquiries must be received in writing in October 2020
> New enquiries only, previously submitted enquiries do not qualify
> Standard rate card/standard arrangement fees only
> The loan must fund before Friday, 18th December 2020
> As normal, all loans are subject to status, underwriting and valuation.
IT'S EASY TO SUBMIT YOUR PROC-tober BRIDGING ENQUIRY
Call our New Business Team on 01202 112 900, or
Download the quick enquiry form and email your enquiry to: enquiry@catalystpf.co.uk
We're here to make sure you never miss a good opportunity #WeAreCatalysts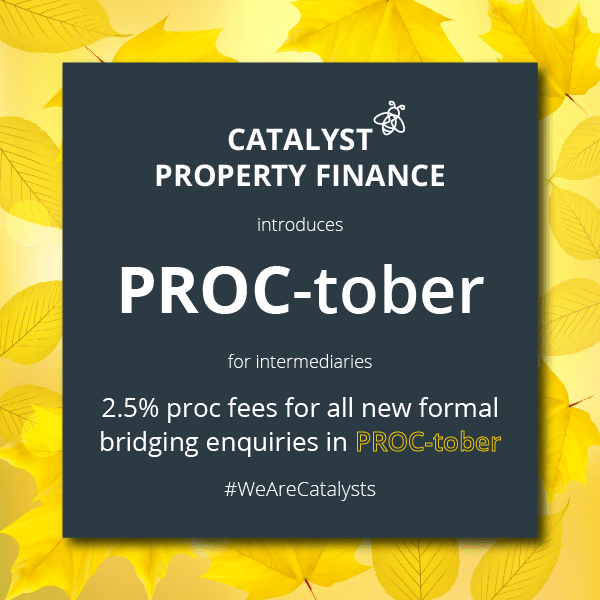 ENHANCED 2.5% PROC FEES
 Boosted to 2.5% for all new formal enquiries submitted in October 2020 that close before the winter break.
CHARITABLE CONTRIBTION
We will make a charitable donation for every PROC-tober loan that closes to "Hope for food"
AUTUMN BOOST
We value your business and will work quickly at every stage of the application process to help you and your client.
Below you will find a selection of our downloadable documents.
These are in editable PDF format.  Please ensure you have a suitable PDF reader installed on your device.
PROC-tober bridging overview
INTERMEDIARIES: This October we're launching PROC-tober, just for you – take a look!
Want to know how much we can lend? And on what property? Here's a quick overview of our bridging loan criteria
Please complete this application form to apply for bridging finance
Introducer Registration Form
Haven't registered with us?  Please complete this quick form so that we can set up your intermediary account.